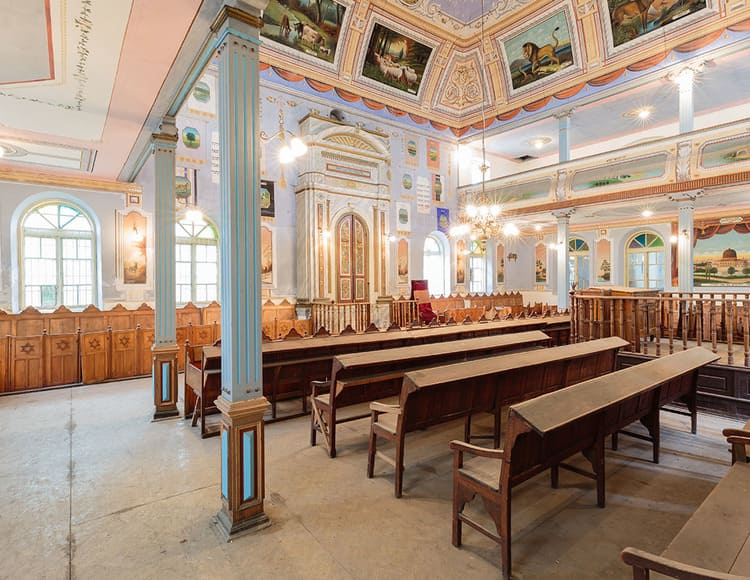 The Cereal Merchants' Temple in Bacău
Before WWI, Bacău had 22 synagogues and prayer houses, only one of which remained standing, the Cereal Merchants' Temple (in Yiddish, Pepșoinekes Șil). Since the nineteenth century, several synagogues have been built in the city for various Jewish guilds or hevra: tailors, later differentiated by age, one synagogue for senior tailors and another for young tailors, furriers, shoemakers, masons, coachmen, merchants from Lviv , and so on.
The construction of the Cereal Merchants' Temple in Bacău, which is now located on 35, Ștefan cel Mare street, began in 1887. The building suffered over time as a result of multiple fires, necessitating rehabilitation work. The decorative paintings on the dome and walls were created by Jassy-born painter Abraham Mendel Grünberg between 1926 and 1927 and are still on display. The decorations in the Baroque Revival style depict biblical scenes, animals such as lions, sheep, cows, deer, antelopes, camels, and crocodiles, images of Holy Land locations, as well as vegetal and linear motifs.
The temple ceased to function in 1955, and some communist blocks were built in front of it in the 1960s, obstructing its view. However, it was preserved from demolition and was designated as a museum site in 1991, and it was added to Romania's historical heritage in 2004. The Jewish Community of Bacău, led by Izu Butnaru, expressed a desire for the building to be repaired and given to the Bacău City Hall so that it can be used as a cultural centre, passing on the mosaic architectural heritage and Jewish customs to future generations.
The Romanian Synagogue Documentation Project
Photo credits: © Daniel Gruenfeld, Oliver Beck Assistant