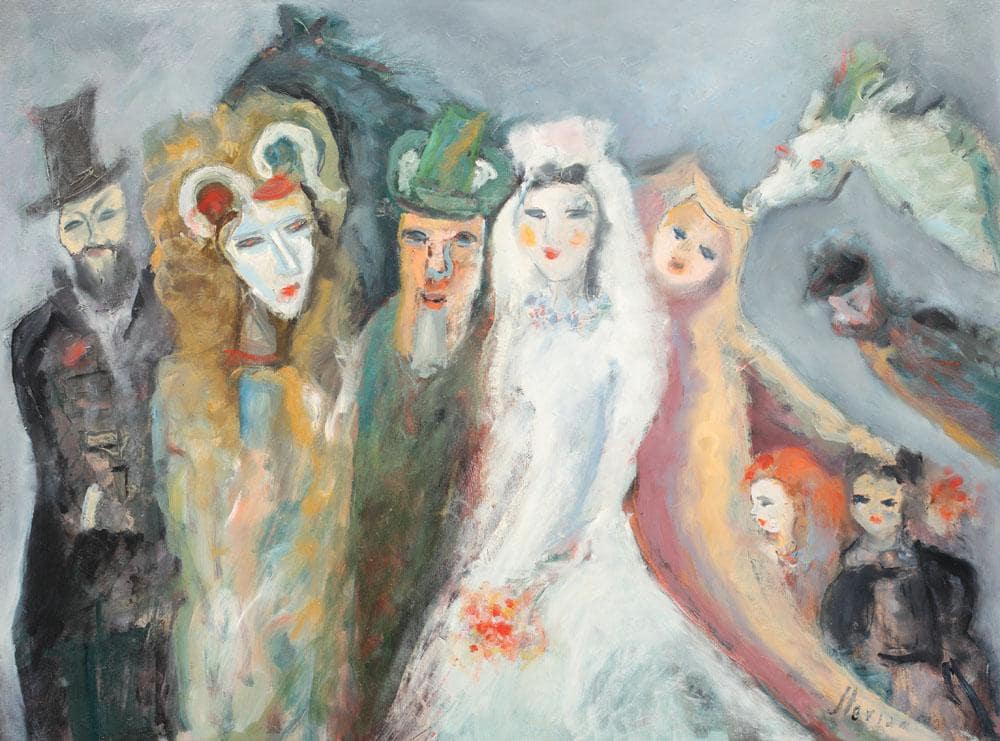 Margareta Sterian
Margareta Sterian (née Weinberg) was a significant Romanian artist, stage designer, poet, and translator. She was born into a wealthy Jewish family from Buzău, on March 16, 1897. Margareta's father remarried after her mother died, and she was raised by her maternal grandparents, who owned an embroidery shop. She then went to an Anglican primary school and an Evangelical high school in Bucharest. Simultaneously, she studied painting with Richard Canisius and Gore Mircescu.
Her first husband was a banker from Ploiești, but they divorced soon after the wedding. Then she met poet Paul Sterian (1904-1984), whom she later married. They studied together in Paris between 1926 and 1929, thanks to the financial support of Paul's father, Eraclie Sterian, a well-known Romanian physician. Margareta attended the Ranson Free Academy and the École du Louvre, where she studied painting and art history. She also went to museums in Paris, with a particular interest in Italian and Spanish masters, as well as Flemish and Dutch painters.
In 1929, after returning to Bucharest, she participated in a sociological campaign organised by Dimitrie Gusti in Drăguș, a village in Brașov county. On this occasion, she created drawings and paintings, particularly portraits, which were included in the Copiii din Drăguș (The Children of Drăguș) cycle. In the same year, she debuted her first solo exhibition at the Mozart Hall. She had the opportunity to travel across Europe and to the United States of America in 1931. Being exposed to the artistic life of New York had a significant impact on her work. She exhibited the works she created in the American metropolis at the Grupul Nostru (Our Group) exhibition in March 1932. She and Paul Sterian were also founding members of the Criterion group.
She was a regular exhibitor at Bucharest's Avant-Garde events, such as the "Arta nouă" (The New Art) exhibition in 1932, the Contimporanul group's exhibitions, and so on. She also designed sets for plays and ballets, as well as illustrated books such as Zaharia Stancu's Antologia poeților tineri (The Young Poets' Anthology, 1934) or Shakespeare's Last Fancied Sonnets in V. Voiculescu's Imaginary Translation (1982).
Unfortunately, like many other artists in Romania, she was banished from public life in 1940 due to her Jewish ancestry. She divorced Paul Sterian, and her Vasile Lascăr Street apartment was seized. To support herself, she began making hats and painting portraits on demand. Her works were either signed with a pseudonym or left unsigned. Mihnea Gheorghiu, a screenwriter, assisted her in selling her paintings by convincing buyers that he was the artist. Simultaneously, she began translating works from American and English literature: for example, she translated Eugene O'Neill's trilogy Mourning Becomes Electra into Romanian. The play premiered at the National Theatre in January 1944, but the translator's name was not mentioned.
Following WWII, she resumed her artistic activity, continuing to translate works by authors such as Walt Whitman, William Faulkner, and Paul Morand, as well as publishing prose and poetry. During the communist regime, she was also persecuted, accused of being cosmopolitan because of the foreign books she chose to translate.
As a means of surviving in a society hostile to her, her creation is prone to introspection and transcendence. In many of her works, she imagined fantastical, surreal spaces inspired by her childhood universe in Buzău. Her favourite themes include landscapes depicting picturesque city corners, scenes from fairs and circuses, and traditional customs. The flight motif and scenes inspired by the circus world are reminiscent of Marc Chagall's work. Margareta Sterian died in 1992 in Bucharest.
Information sources:
Monica Enache, Alexandru Florian, Valentina Iancu, Jewish Artists in Modern Romania. Destinies Marked by Anti-Semitism and the Holocaust, București, NOI Media Print, 2012.
Amelia Pavel, Pictori evrei din România/Jewish Painters in Romania. 1848-1948, București, Editura Hasefer, 2003.
Images sources: Wikipaintings, Artmark, Artindex